Time to Trick or Treat! In other words, time to run to the store to buy the biggest bag of candy you can find, right? Wrong! Brick & Portal has the tips to amp up your Halloween candy game. Check out these super simple DIY Halloween candies!
Everything Rice Krispie
Making rice Krispie treats might seem really intimidating. You may be asking yourself, "Can I do this? What will happen? Am I qualified for this position?" But no need for the self-doubt, making these treats is actually quite simple. You may wonder why you haven't tried it sooner!
It's really only a 3-step process. First, melt butter on your stove top and start adding marshmallows until they are melted too. Stir the butter and marshmallows well until you've got a smooth mixture. Next, in a separate bowl, add the mixture to the rice Krispie cereal and mix again. Lastly, press into the bottom of your go-to brownie pan and cool in the fridge and voila! Homemade Rice Krispie treats!
Now for the fun part of making these treats. You can shape them with cookie cutters to make these candy corn shapes, and add food coloring too! Or dip into chocolate and sprinkle!
Add more marshmallow and make a smore!
Or press the Krispies into a circle with orange food dye for a pumpkin treat!
Did somebody say marshmallow pop?
Now, what to do with the leftover marshmallows? Pop 'em onto a stick, dip, and decorate!
Give the pops a colorful Halloween costume!
Make them spooky with just chocolate!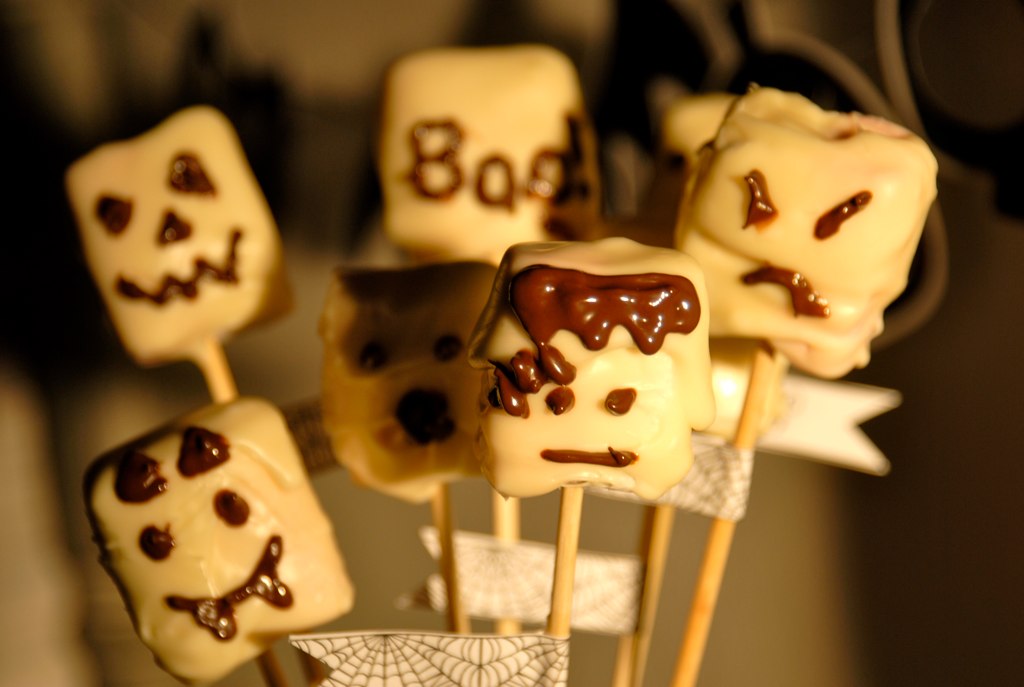 Dip it in white chocolate for a ghostly effect!
Something to wash it down!
Who said chocolate milk can't be decked out? Try a sprinkled rim!
Yum! You're all set to have the Halloween treat tricks of the year!